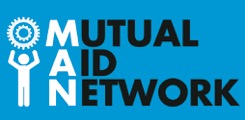 A pioneer in new ways of applying old (golden) ideas about resource sharing and exchange, Stephanie Rearick decided to put her money where her mouth was in 2017 and MAN Up for real. This meant leaving her salaried position at Dane County TimeBank in order to devote her time more fully to building Mutual Aid Networks at home in Madison and around the world. It also meant putting more skin in the game of making Posh-terity (a posh life on an austerity budget) work in real life.

We'll soon have some Common Funds open, good Posh-terity budgeting tools, good networks of resources to share, and we'll all be able to support each other to do the work we wish to do in our lives, on a reguar basis.

Meanwhile there's still a lot of grunt work to do and Stephanie needs to raise money for those pesky hard expenses like medical payments (broken arm last year - $4500), house payments, new roof ($4200), travel ($500), etc.

In addition to small contracts, honoraria, bits of money from making music (her favorite way for you to support her is to buy some of her recordings!), some coffeehouse income (still recovering from the car crash and prior road reconstruction), and lots of frugality and sharing, Stephanie is accepting plain old contributions of money toward living expenses. And more interesting ways to contribute too, with more added over time.

Thanks for helping out!



Donate
1) Paypal - send any amount in any currency to: donate@stephanierearick.com

or... Use this Subscription button to

2) Faircoin - Send donations of Faircoin to: fWnuQvmgetasqHX41hURGH6HMpfWB5G1Ux

3) Ethereum - Send donations of Ether to: 0xd889B26f39B1beccBfc0f00812192E7Dc506eDd4